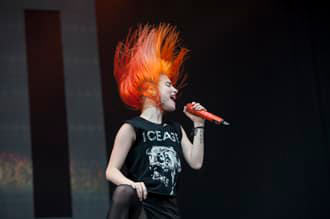 Photo: Hayley Williams, Paramore, at Rock im Park, Nuremberg 2013
© Felix and Günter Pfannmüller
Exhibition
Michael L. Abramson, Susan Barnett, Pep Bonet, Anton Corbijn, Stanley Greene, Bob Gruen, Gijsbert Hanekroot, Barbara Klemm, Günter & Felix Pfannmüller, Derek Ridgers
Opening: June 09, 2017, 7pm
Duration: June 10 – August 27, 2017

Emotions and the freedom to express them: ROCK.FUNK.PUNK. presents unique photographs of legendary musicians and concerts from the late 1960s till today. Over 150 images of ten photographers show the internationally famous clubs and stages – from the Punk Club Scene in San Francisco to the annual 'Rock am Ring' festival at the Nürburgring. Iggy Pop, Janis Joplin, Dead Kennedys, Udo Lindenberg and other icons of music history can be seen. In addition: album covers and photographs of extravagant fashion statements.