Special Event
Nacht der Museen 2017
Frankfurt & Offenbach 2017
BLUE RIVER LIGHT! Painting with light in the Olympus
Light Painting Studio & Souvenir-photo from CEWE
Sat, May 06, 2017, 7pm–2am
Location: Fotografie Forum Frankfurt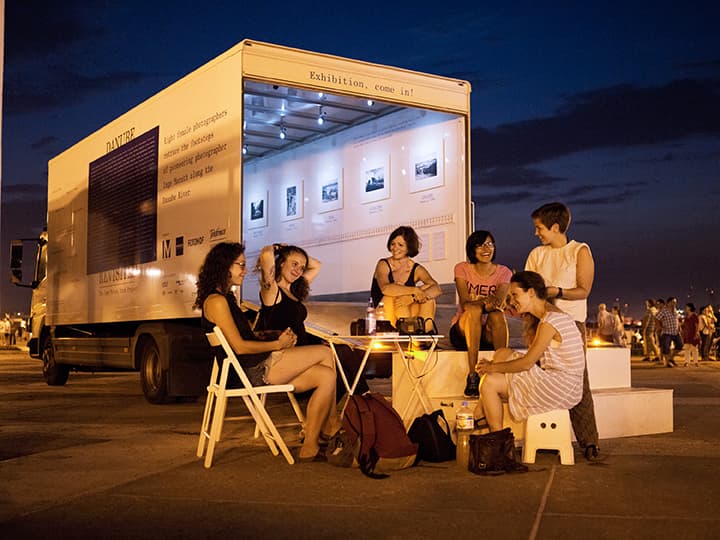 Photo: Tulcea, Romania, 2014 © Claire Martin
With the theme "BLUE RIVER LIGHT" the Fotografie Forum Frankfurt (FFF) offers a diverse programme. The current exhibition DANUBE REVISITED. THE INGE MORATH TRUCK PROJECT presents a European road trip undertaken by eight international women photographers in homage to Inge Morath. With this the FFF also celebrates the role of women within contemporary documentary photography. The exhibition features more than 100 works from the photographers Olivia Arthur (GB), Lurdes R. Basolí (E), Kathryn Cook (USA/CH), Jessica Dimmock (USA), Claudia Guadarrama (MEX), Claire Martin (AUS), Emily Schiffer (USA), Ami Vitale (USA), and historic photographs of Inge Morath (1923–2002). The documentary film "Diary of a Journey: A Tribute to Inge Morath" complements the photographic documents of the journey and interviews with the protagonists.
Those who would like to learn more about this unique photographic project can join the guided tours through the exhibition taking place at 7:30 pm, 10:00 pm, and 11:30 pm or stroll through the exhibition, answer our prize question, and submit the filled-out out postcard. These are the raffle prizes that you can win: An OLYMPUS camera, the book "Magnum Sees Piemonte – Magnum Photographers" (2005), or a gift voucher for the participation in the workshop "Frankfurt through the lens" with Nils Thies.
A musical journey along the Danube can be experienced for the first time in the newly opened Frankfurter Salon. Florian Stadel will give a live accordion performance while cool drinks and small snacks can be enjoyed at the bar. This year night crawlers can also let themselves be painted with light in the Olympus Light Painting Studio again. Gold rain over the city, glowing angel wings, or a special message written with light – a fascinating image is guaranteed! In the inner court of the Fotografie Forum Frankfurt Olympus photographers demonstrate how to paint with light and create unique images using the OLYMPUS OM-D cameras. These cameras constantly update the progress of the exposure and thus the composition of the Light Painting on the display with the use of Live Bulb and Live Composite. Thanks to our partner CEWE, each visitor can print his very own photograph on site and take it home.
The Light Painting Studio is presented in cooperation with OLYMPUS and CEWE.