Talk
Photography Players
International Specialists Featuring Upcoming Talents
Fri, March 31, 2017, 6pm
Location: Fotografie Forum Frankfurt
Admission: 5 EUR, reduced 3 EUR; free admission for members of the FFF, students with valid ID card and employees of LMVH Watches & Jewelry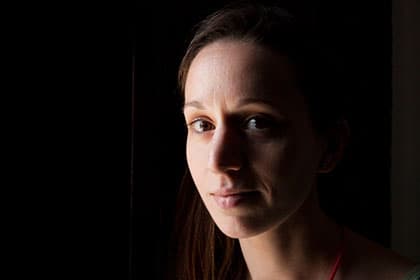 Lurdes R. Basolí, Nigeria 2015
© Blaize Itodo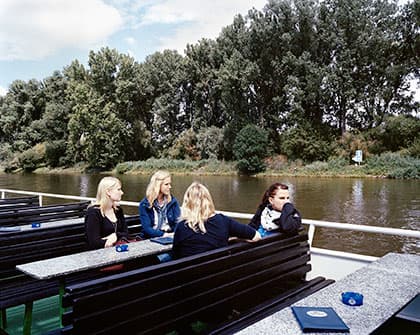 Photo: Four downriver - I, from the series My Danube, Deutschland 2014
© Lurdes R. Basolí
Photo: Margaret Island - I, from the series My Danube, Ungarn 2014 © Lurdes R. Basolí
"WHAT THE RIVER REVEALS"
Lurdes R. Basolí, photographer, in conversation with Celina Lunsford, Artistic Director of Fotografie Forum Frankfurt
What happens when eight photographers take a 34 day photo journey through eight countries? Danube Revisited. The Inge Morath Truck Project: 2014 eight photographers and prize winners of the Inge Morath Awards went on a road trip through eight countries to document people, nature and life-themes along the Danube. Their interactive, documental, conceptual and abstract photographs are now being shown at the Fotografie Forum Frankfurt.
Within the framework of the exhibition Celina Lunsford, curator of the exhibit, will be speaking with Lurdes R. Basolí, Co-founder of the Danube Project, about the experiences and adventures of this extraordinary photo journey. This Spanish photographer will be giving insights into the development of this project and describing the effects that it has had on her way of working.
The talk will be held in English.
Lurdes R. Basolí (*1981 in Barcelona) is a freelance photographer from Barcelona, Spain. She received her degree in Audiovisual Communication and a postgraduate diploma in Photojournalism from the Universidad Autónoma de Barcelona. She began her professional career in 2005, doing reportages for Spanish and American magazines, such as El País Semanal and The Sunday Times Magazine. Her awards include the ANI PixPalace at Visa pour l'Image (2011), the Inge Morath Award from the Magnum Foundation (2010) and a FotoPres grant from the Fundación "laCaixa" (2009). Basolí has been included in international exhibitions at Baku Museum of Modern Art, Baku (Azerbaijan); Fotohof Gallery, Salzburg, the Feria Iberoamericana de Arte, Caracas (Venezuela); the Noorderlicht Photofestival, Groningen and the CaixaForum, Barcelona. She co-initiated Danube Revisited: The Inge Morath Truck Project, a female road-trip along the Danube River. The results of this project are presented in a group exhibition, organized by Fundación Telefónica Madrid. In 2017 this show will be presented at the Fotografie Forum Frankfurt. Basolí lives and works in both Barcelona and San Sebastián.
www.lurdesbasoli.com/
Celina Lunsford (*1960) is a curator and writer on photography who moved to Germany from New Orleans in 1985. Since 1992 she has been the Artistic Director of the Fotografie Forum Frankfurt and is Vice President of the Deutsche Fotografische Akademie, DFA (German Photographic Academy). Throughout her career she has curated and lectured in Asia, Europe, and the USA, covering historical and contemporary aspects of the medium. She had edited and published numerous publications on photography including Potretti. Photographs and Literature from Finnish Artists and Writers, 2014, FFF/FILI; Imogen Cunningham, TF Editores, Madrid, 2012; Frontiers of Another Nature, Pictures from Iceland, 2011, Kehrer Verlag, Heidelberg/Crymogea, Reykjavik.
The focus of the FFF events "Photography Players" is based on dialogues about current international projects and ideas about the medium. FFF Curator Celina Lunsford speaks with photographers and other experts about different, young and fresh talents. The new format has been made possible with support from "LVMH Watches & Jewelry".