LECTURE & BOOK SIGNING
"On the way to Fishbar"
Olivia Arthur
Sat, May 13, 2017, 6pm, cancelled!
Location: Fotografie Forum Frankfurt
Admission: 5 EUR, reduced 3 EUR, for members of the FFF and students with valid ID card admission is free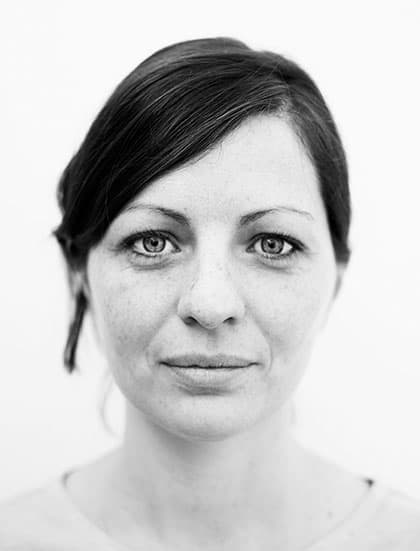 Olivia Arthur © Philipp Ebeling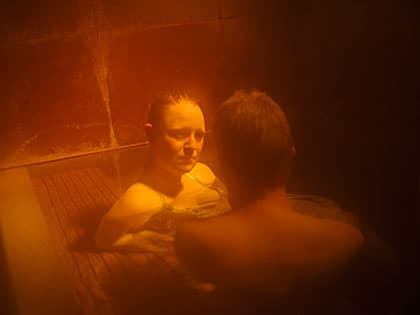 Photo: o.T., from the series In and out of love, 2014 © Olivia Arthur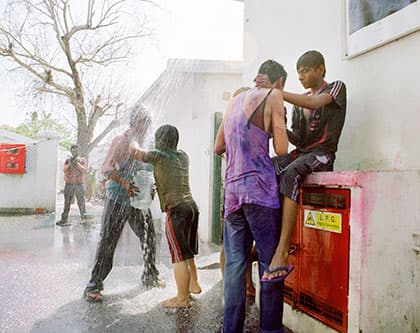 Photo: Playing Holi in a compound in New Delhi, from the series India Stories, India 2011 © Olivia Arthur
Dipping into diverse cultural living environments: For her photo projects in Iran, Saudi Arabia or India, the British photojournalist, Olivia Arthur (*1980) explored different cultural realities of everyday life. In 2014, along with seven other women photographers, she embarked on a 34-day photographic journey up the Danube and documented the multifaceted impressions and memorable narratives of life on the river. In this lecture, the Magnum photographer and DANUBE REVISITED artist talks about her trip on the Danube and the subsequent relevance that the trip had on her photographic work. In addition, she will give some insight into past photo projects and explain the experiences and inspirations she gained from "Fishbar". It is a photography gallery and small publishing house that she has run since 2010 with her partner, the German photographer, Philipp Ebeling. After the lecture, there will be a subsequent book signing with Arthur and Ebeling.
This event is part of the program accompanying the exhibition DANUBE REVISITED. THE INGE MORATH TRUCK PROJECT.
The lecture will be held in English.
After attaining a degree in Mathematics from the University of Oxford, Olivia Arthur (*1980 London, GB) studied Photojournalism at the London College of Printing in 2003. Olivia is a London-based photographer who has worked for many years on the East-West cultural divide. Her first book Jeddah Diary was about the lives of young women in Saudi Arabia. Her second book, Stranger is a journey into Dubai seen through the eyes of the survivor of a shipwreck. Her work has been on exhibit at the Centre Pompidou in Paris, La Triennale in Milan, the Art Museum in Shanghai and the Shiodome Italia Creative Center in Tokyo amongst others.
In 2007, she received the Inge Morath Award from the Magnum Foundation and in 2008, she joined Magnum Photos. At that time, she started a new project titled Beyond the Veil in Tehran, Isfahan and the Caspian Sea, portraying Iranian women in ways unlike Western cultural stereotypes about them. In 2008 she won the PHotoEspaña OjodePez Award for Human Values, with a solo exhibit at PHotoEspaña in 2009. Additional awards include the Vic Odden Award from the Royal Photographic Society (2010) and that of the Jean-Luc Ladardère Foundation (2008). Her works are found in various international collections, such as the Camera Museum in Switzerland and the National Media Museum in Bradford.