WORKSHOP
"APPROACHING YOUR VISION"
Stanley Greene
Sat, June 10, 2017, 10am–5pm
and Sun, June 11, 2017, 10am–6pm, cancelled!
Location: Fotografie Forum Frankfurt
Registration deadline: May 26, 2017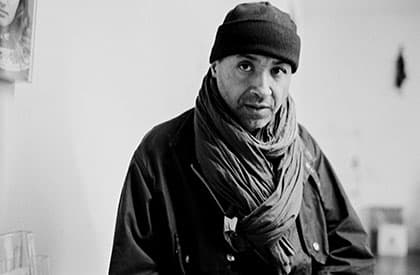 Stanley Greene © Sarah Shatz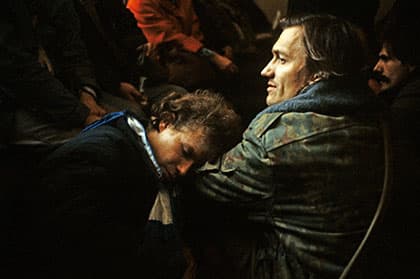 Photo: Stanley Greene © Noorimages 2013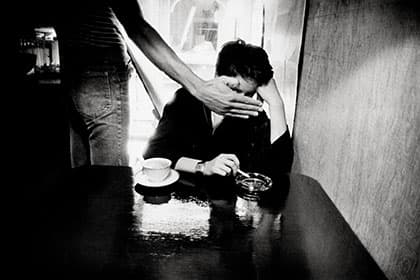 Photo: Coffee and cigarettes with my friend, the photographer, Colette Valli, in 1979 in North Beach. Stanley Greene
© Noorimages 2013
Themes: street photography, working in tense situations, editing, portfolio review
This workshop will focus on developing a critical photographic awareness of one's environment as well as one's aesthetic consciousness. Participants can decide to shoot a particular story or they may approach the day simply looking for unrelated scenes. Photojournalist and NOOR-photographer Stanley Greene (*1949) will share examples of his work and discuss the approach of documenting and expressing your vision when working under extreme circumstances. Greene will discuss themes for the participants to photograph on the weekend. These photos will be discussed in the group as prints or projected to make a final edit of the results.
The workshop will be held in English.
Stanley Greene (*1949 in the USA) as a teenager was a member of the Black Panthers and an anti-Vietnam War activist, well-known in the early years of his career for his work The Western Front, a unique documentation of the 70s and 80s punk scene in San Francisco. In 1986, he moved to Paris and began covering events throughout the world. He soon found himself photographing the myriad aspects of the decline of communism and the break-up of the Soviet Union. In the following years he photographed in Southern Sudan, India, Rwanda, Zaire, Iraq, Sudan, Darfur, Afghanistan, Kashmir and Lebanon. From 1994 to 2001, Greene photographed extensively the conflict in Chechnya, between rebels and the Russian armed forces. Stanley was awarded a Katrina Media Fellowship from the Open Society Institute in 2006, and he has won five World Press Photo awards. He also won the W. Eugene Smith Award and the Alicia Patterson in 2004 as well as the Pipak (International Price Albert Kahn Planet) in 2011. In 2013, Stanley received the Aftermath Project Grant to continue his work in the Caucasus. He was the Sem Presser lecturer at the 2017 World Press Photo Award Ceremony.