Workshop
"IF YOUR PICTURE WAS THE BEGINNING"
Emily Schiffer
Sat/Sun, May 27/28, 2017, 10am–6pm
Location: Fotografie Forum Frankfurt
Registration deadline: April 29, 2017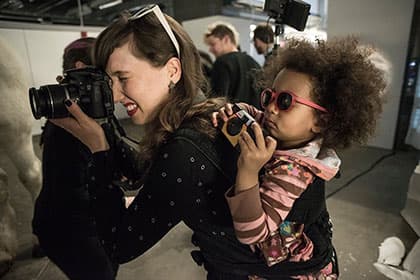 Emily Schiffer, 2016 © Nicholas Williams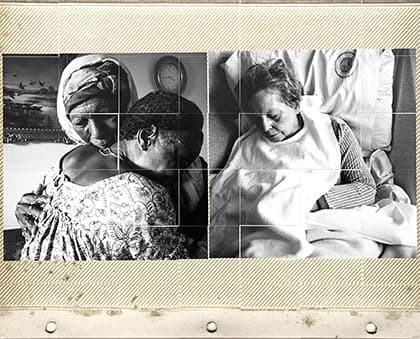 Photo: Comfort, from the series Album 2016 © Emily Schiffer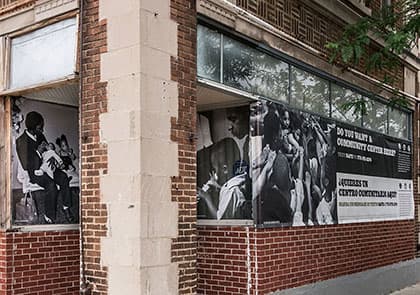 Photo: SEE POTENTIAL at Imagine Englewood If, Chicago 2013 © Emily Schiffer
Themes: Exploring presentations for the photographic medium, portfolio review
What happens if we conceive of photographs as the beginning of an artistic process instead of the end result? How and where do you want your images to live in the world? In this workshop we will look at a variety of creative approaches, from mixed media work to public art installations, from traditional editorials to exhibition formats. Participants will bring photographs from a series or project with them and work on editing and new ideas for presentation with Emily Schiffer (*1980). Materials and developing a proposal for the presentation will be discussed. The goal of the workshop is to create a detailed plan for how to launch your images to the next level.
The workshop will be held in English.
A co-creator of the Inge Morath Truck idea and project, Emily Schiffer (*1980 in Newton, Massachusetts, USA) is known for her interactive photography projects that expand the use of documentary images. Whether curating interactive installations of giant photographs on abandoned buildings in Chicago's South Side, or creating a youth photography program on the Cheyenne River Native American Reservation, or producing mixed media work, the artist is interested in integrating exceptional imagery into every-day life.
Emily Schiffer has exhibited her work internationally at Fundación Telefónica, Madrid; Fotohof Gallery, Salzburg; the Farnsworth Museum, Rockland (MA/USA) and Photoville, New York City among others. Her photographs have been published in numerous magazines, including Aperture, Smithsonian Magazine, TIME, Mother Jones and PDN magazine. She has received several awards and grants for her photographs including an Audience Engagement Grant from the Open Society Foundation, a Magnum Foundation Emergency Fund Grant, the Arnold Newman Prize for New Directions in Photographic Portraiture, the Inge Morath Award and a Fulbright Fellowship in Photography. Her work is in the collections of the Farnsworth Museum, Rockland (ME/USA); Foto Baryo, Batangas (Philippines); Kiyosato Museum of Photographic Arts, Hokuto (Japan) or the Center for Fine Art Photography, Fort Collins (CO/USA).