Workshop series
"IN VERBINDUNG SETZEN"
Heinrich Voelkel
Sat, Mar 11, May 20, Aug 12, Nov 4, 2017, 10–6pm
Final presentation in December
Location: Fotografie Forum Frankfurt
Registration deadline: Feb 10, 2017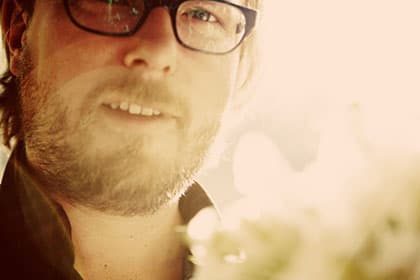 Heinrich Voelkel © Bevis Fusha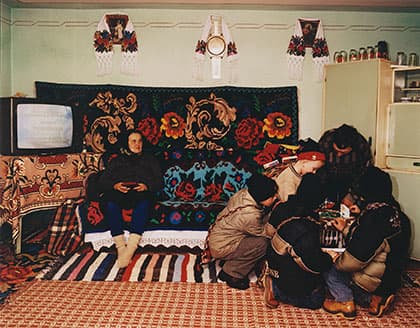 Photo: Weihnachten, from the series Weihnachten in Rumänien, Romania 2003 © Heinrich Voelkel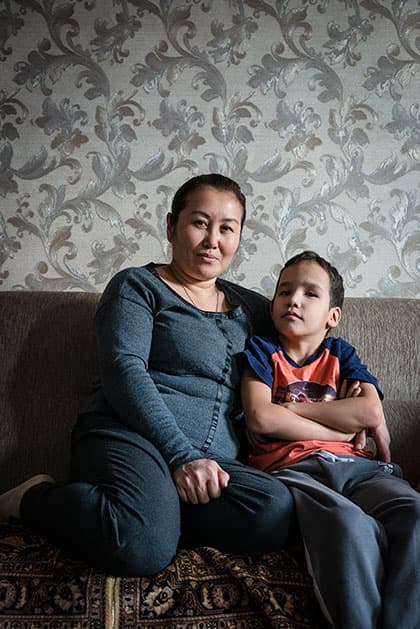 Photo: Lehrerin Marina und ihr Sohn Herman in ihrer Wohnung, from the series Die Mütter von Beslan, Russia 2015 © Heinrich Voelkel
Themes: Long term project on the concept of 'family', documentation, portfolio review
Clan, tribe, group, ancestry, kin – all of these terms relate to something that we all know as 'family'. Over a nine month period, the participants in this workshop accompanied by OSTKREUZ-photographer Heinrich Voelkel (*1974) will work on a photo project that deals with various forms of 'family'. It's about newly discovering relationships and examining them photographically. Of particular value in the workshop is the ongoing work on the subject and the development that the participant goes through. The main project idea as well as a portfolio should be brought to the first meeting.
This workshop will be held in German.
Heinrich Voelkel (*1974 in Moscow) started to study architecture at the University for Technology, Economy and Culture in Leipzig before beginning his photography education in the Lette-Verein in Berlin where he received his degree in photo design in 1999. Since 2005, he has been a member of the photography agency, OSTKREUZ.
In addition to numerous publications in several large German magazines, such as Stern, Spiegel and SZ Magazin, he regularly presents his work in different exhibitions. His work has been shown at the Freelens Galerie in Hamburg, the Stadtmuseum München, the Haus der Kulturen der Welt in Berlin and in C/O Berlin, among others. In 2006, he participated in the exhibition Deutschlandbilder in the Central House of Artists in Moscow. Most recently, Heinrich Voelkel was awarded a prize selected by the public – the international WeldeKunstpreis für Fotografie 2013 and the Konrad-Wolf-Preis was given to him from the Akademie der Künste Berlin in 2013. Heinrich Voelkel lives and works as a freelance photographer in Wiesbaden.